I'm a member of the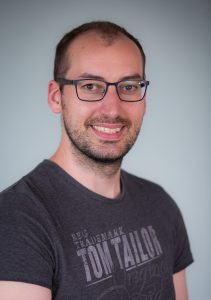 Algebra, Geometry and Computeralgebra group at the University of Kaiserslautern. My main research focus lies in algebraic geometry, representation theory, and (higher) category theory—mostly in the context of algebraic Lie theory. I also develop computer algebraic methods. Specific topics I am interested in are:
Symplectic algebraic geometry (symplectic singularities, Poisson deformations, symplectic duality, minimal model program; symplectic reflection algebras, rational Cherednik algebras, Calogero–Moser spaces)
Coxeter groups, Kazhdan–Lusztig theory, Hecke algebras
Complex reflection groups, cyclotomic Hecke algebras
Highest weight categories, cellular algebras
Soergel bimodules
Generic representation theory
News and schedule
2020
2019
2018
See here for previous years.
Short CV
Since Aug 2019: Professor for "Algebra" at the University of Kaiserslautern (press release)
Apr 2019–Jul 2019: ARC Early Career Researcher at the University of Sydney
Apr 2017–Mar 2019: Research Fellow in "Algebraic Geometry and Lie Theory" at the University of Sydney.
Mar 2016–May 2016: Research stay at the University of Glasgow. Supported by a Research Support Fund from the Edinburgh Mathematical Society.
Jul 2014: Award of the University of Kaiserslautern for "outstanding achievements as doctoral student at the department of mathematics" (press release).
May 2014: PhD in pure mathematics at University of Kaiserslautern with thesis "On restricted rational Cherednik algebras".
Oct 2012–Mar 2017: Research and teaching assistant at the University of Stuttgart. Between Jul 2014 and Jul 2016 supported by DFG SPP 1489 Algorithmic and Experimental Methods in Algebra, Geometry and Number Theory.
Nov 2009–Sep 2012: Research fellow at the University of Kaiserslautern. Supported by DFG SPP 1388 Representation Theory.
Nov 2009: Diplom (Master's equivalent) in pure mathematics (with physics as minor) at the University of Kaiserslautern.
Sep 2007–Feb 2008: Visiting student at Harvard University.
Contact
University of Kaiserslautern
Department of Mathematics
Postfach 3049
67653 Kaiserslautern
Germany
Office: 48.416 (Gottlieb-Daimler-Straße, 67663 Kaiserslautern)
Email: thiel at mathematik.uni-kl.de
You can send me an encrypted email using my S/MIME certificate.
Other profiles and websites: arXiv, MathSciNet, Google Scholar, GitHub, Math Genealogy, DK1UT